Forehand Loop Mastery - with Tao Li
How would you like to master the forehand loop? FAST! Imagine being able to execute deadly loops, just like the pros.
The forehand loop is the most dynamic and powerful shot in table tennis, and this coaching course reveals everything you need to know to master it with ease.
By following the techniques you will...
Discover how to perform slow loops, loop drives, and loop kills like a pro.
Control the pace of the game at will, and throw your opponent off with ease.
Master the counter-loop and never again collapse under the pressure of an aggressive attacker.
Beef up your arsenal and destroy the competition with lethal third, fourth and fifth ball loop attacks... your opponents will be devastated by your relentless offense.
Develop a "killer instinct" and increase your confidence to initiate the attack.
Annihilate your opponents with vicious sidespin hook and fade loops.
With this killer training course as your guide you'll master the forehand loop faster than you ever thought possible. It's practical, simple, and the most cutting-edge loop training available today.
Did You Know You Can Preview The Course For FREE?
That's right! We've made a handful of lectures available as free previews. That means you can get a glimpse inside the training program and check out the quality of the course before you decide.
For the Forehand Loop Mastery course that includes; an introduction to all of the different types of forehand loop, an overview of the slow loop, fast loop and loop drive, and some advice on how to get the most out of this course.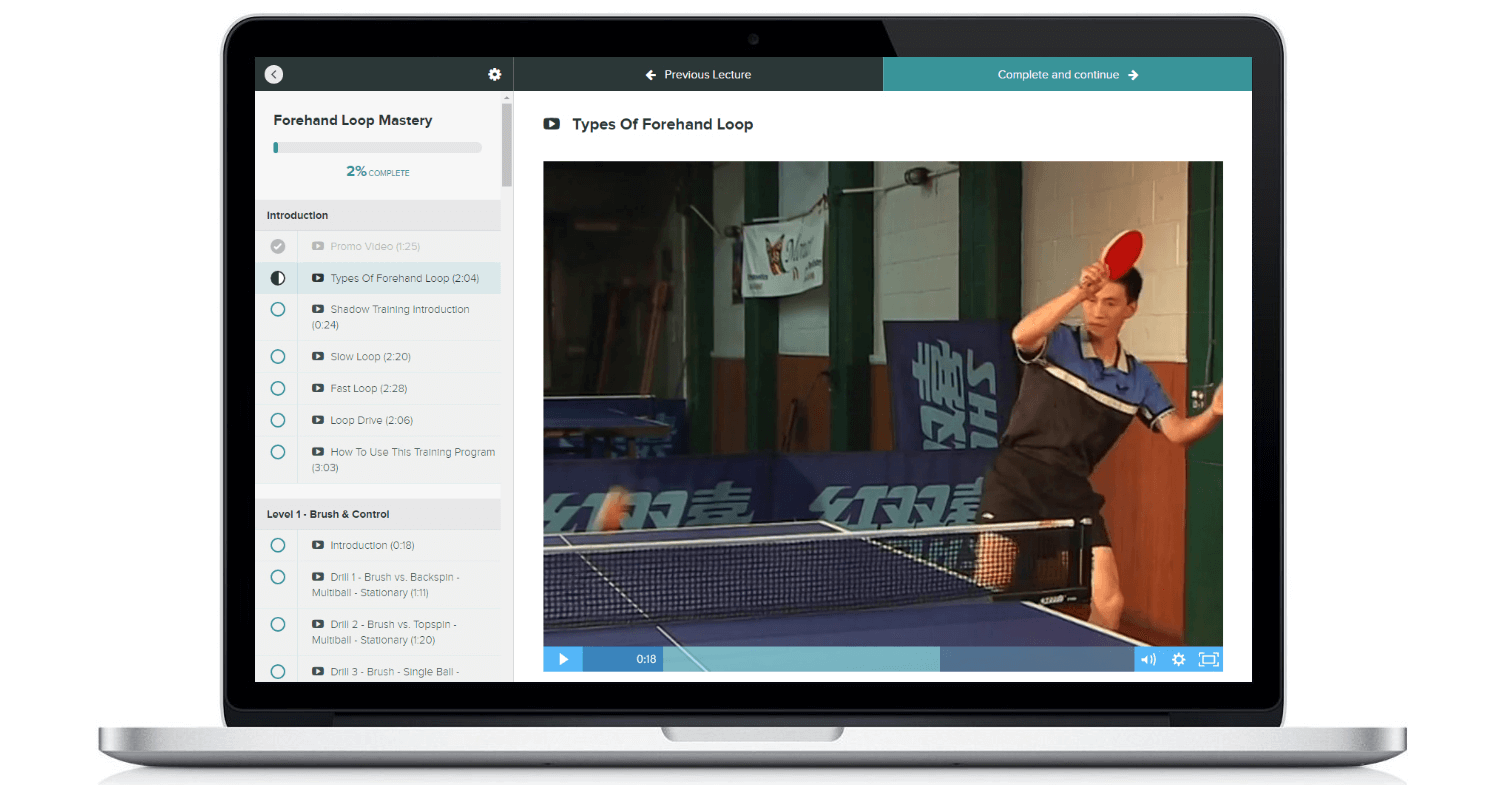 You can access this FREE content by scrolling down to the "Class Curriculum" section.
Imagine Having A Chinese Master As Your Coach!
It's no secret that the Chinese dominate the sport of table tennis. They train long and they train hard - and are known as the most disciplined players in the world.
So, if you want to get good fast... doesn't it make sense to learn from a Chinese coach who's "been there"? Who's trained and competed with the BEST?!
Born and raised in China, Coach Tao Li has been a student of table tennis all his life. He was a first-class professional player for the Hebei Provincial Team in China and was also Head Coach of the Beijing Jiaotong University Table Tennis Program. Presently, he's a well-respected NCCP Certified Level 3 Table Tennis Coach in Canada.
Because Coach Li is such an experienced player and teacher... what you are about to see can be QUICKLY "absorbed" into your muscle memory. You get "full on" training that will have you unleashing killer loops as fast as possible. The material is easy, simple and brutally effective.
Are You Ready To Unleash KILLER Loops?
So what are you waiting for? Order now and get your hands on the most comprehensive and effective loop training available today. Explained so clearly that even a novice can understand, you will master the forehand loop in no time!
Don't spend another second trying to loop until you've seen this!
Buy The Complete Mastery Bundle
You can buy Coach Tao Li's Forehand Loop Mastery course for $47 by clicking the button at the bottom of this page. But did you know that Coach Li also has three other specialist stroke training courses exclusively available at TableTennisUniversity.com?
The Mastery Bundle contains the following four video training courses...
If you enjoy Tao's coaching and instruction you should buy the complete four-course mastery bundle. They complement each other perfectly and you'll save $91 off the price of buying them all individually - just $97 instead of $188.
Don't delay. Start learning today, with The Mastery Bundle by Coach Tao Li.