How would you like to learn deadly serves, master the forehand and backhand loop, and annihilate your opponents with ruthless forehand smashes?

These are four of the most important skills in table tennis and, once added to your game, will leave your opponents in total dismay!
The Mastery Bundle contains the following four video training courses...
That's over four hours of high-quality table tennis instruction!
4 Table Tennis Training DVDs

These courses were originally very popular training DVDs created by Coach Tao Li and sold by Table Tennis Master.
Hundreds of table tennis players from all over the world have purchased Tao's Mastery DVDs and taken their game to the next level. You can read plenty of positive reviews at TableTennisDB.com!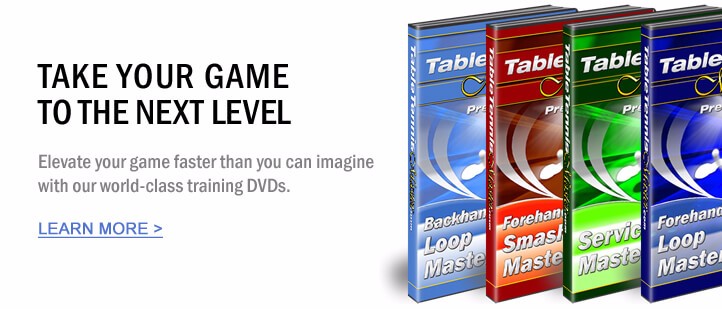 In 2016, these famous training DVDs were rebuilt into online training courses and uploaded to the new Table Tennis University website. That means you can now access them anywhere with an internet connection, or download them to your computer, tablet, or smartphone to watch when you are offline.
Imagine Having A Chinese Master As Your Coach!

It's no secret that the Chinese dominate the sport of table tennis. They train long and they train hard - and are known as the most disciplined players in the world.
So, if you want to get good fast... doesn't it make sense to learn from a Chinese coach who's "been there"? Who's trained and competed with the BEST?!
Born and raised in China, Coach Tao Li has been a student of table tennis all his life. He was a first-class professional player for the Hebei Provincial Team in China and was also Head Coach of the Beijing Jiaotong University Table Tennis Program. Presently, he's a well-respected NCCP Certified Level 3 Table Tennis Coach in Canada.
Because Coach Li is such an experienced player and teacher, what you are about to see can be QUICKLY "absorbed" into your muscle memory. You get highly detailed, "full on" instruction which will have you unleashing killer serves, loops, and smashes with ease. The material is easy to understand and brutally effective.
Plus... Live Tutor Support!
We understand that learning to play table tennis isn't easy and you are bound to have plenty of questions that are specific to your individual level and situation. The last thing we want to do is leave you to try and figure it all out on your own!
As such, all of our premium TTU courses come with support from a live tutor... Ben Larcombe of ExpertTableTennis.com!
Ben is a highly experienced, professional table tennis coach who enjoys nothing more than helping people learn how to play table tennis better. Purchase any of our excellent courses and you'll receive live support from Ben - whenever you need it - via webinars, email exchanges, and Skype.
Want To Unleash KILLER Serves, Loops, and Smashes?
So, what are you waiting for? Order now and get your hands on the most comprehensive and effective table tennis training available today. Explained so clearly that even a novice can understand, you will be amazed at how fast you are improving!
Don't even think about trying to serve, loop, or smash until you've seen this video training!

Buy Tao's Complete Mastery Bundle
You can buy each of Coach Tao Li's individual Mastery courses for $47. But 'The Mastery Bundle' is your chance to purchase the complete four-part collection for a serious discount.
Act today and you can gain immediate lifetime access to Service Mastery, Forehand Loop Mastery, Backhand Loop Mastery, and Forehand Smash Mastery for just $97.
That's a discount of $91 off the price of buying the four courses individually - practically 50% off!
Isn't it time you started taking your training more seriously and began your journey to table tennis mastery? Enroll TODAY!